Looking to make a meal for a new mom? Or stock up meals for yourself post-baby? Here are 9 nourishing recipe ideas!
The tradition of bringing meals to new moms is one of the great acts of service (and so needed!) New mamas need special nutrients to recover from birth and build up their reserves, especially if they nurse their baby. If you're wondering what meals for new moms are best, or if you're looking to stock your freezer full of meals for when you have your baby, this post is for you!
On this page…
Why nourishing meals for new moms are so important
Baby takes everything it needs from its mother via the placenta. Even if mom doesn't have enough, the baby takes it! That's why you hear the adage "gain a child, lose a tooth." I, myself, lost a weak tooth that was severely damaged by my intense sugar addiction years earlier. So, no doubt, pregnancy is tough on the body and can leave many pregnant women and new moms drained, in more ways than one. Today, with our soils being depleted, conventionally grown produce being subpar, and feed-lot meats having lower than normal levels of vitamins and minerals, many women are deficient even before they conceive.
And once she does give birth, most experts believe that most women are nutritionally depleted for at least a year after the birth, which is one reason I tried to wait 3 years between pregnancies. Some believe it even takes 10 years to replete after birth! According to family physician, Dr. Oscar Serrallach, this chronic deficiency can cause symptoms such as:
Fatigue, exhaustion, not feeling refreshed after sleeping
Falling asleep at unexpected times
Wired and hyperaware, with underlying anxiety
Feelings of guilt and shame
Desiring isolation, not having the energy to socialize, not leaving the home often due to feeling overwhelmed
Frustration at lack of free or me time
Brain fog or baby brain
Little to no interest of sex
This is why some moms swear by consuming their placenta, which helps to boost vitality after birth. Of course, another obvious way moms can nourish themselves postpartum is to eat nutritionally-dense foods. Unfortunately, most moms are so overtired and busy with a new baby that preparing healthy meals isn't the number one priority. That's why making meals for new moms is so helpful and needed! Or, if you're expecting yourself, prepare these foods now and stock your freezer. Here are some delicious recipes to get you started!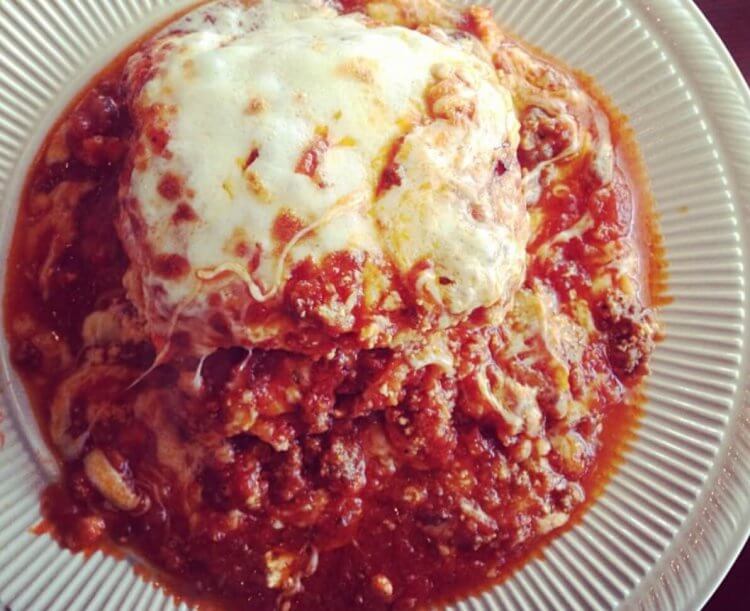 Meals for New Moms: #1. Lasagna with liver
OK, I had to throw in one lasagna recipe because it is one of the "classic" meals for new moms. But this recipe contains a superstar: LIVER. Yes, the liver is one of the most nutrient-dense foods on the planet. Some call it "Nature's Multivitamin." It's an excellent source of protein, with an easily absorbed form of iron. It includes significant amounts of B vitamins as well as vitamins A, D, E, C, and many trace elements and minerals.
Liver also contains the essential fatty acids EPA and DHA which used up by baby for proper brain development, and can be one of the first areas of depletion for mom.
A great rule of thumb for nourishment is to eat a 4 ounce serving of liver once a week. An easy and agreeable way to do this is with a bolognese lasagna. I promise, you can't even taste it! Be sure that you get a high-quality source of liver from a grass-fed cow. You can try Whole Foods or get from a local farmer. (And if that's still too disagreeable for you or new mom, try these liver pills instead.)
Liver Bolognese Lasagna
This is my mama's delicious lasagna recipe that is adapted to include more liver for an extra nutritional punch!
Bolognese Sauce:
2 Tbs. olive oil
1 1/2 lb ground beef
1/2 lb beef liver (see if butcher can grind up for you. Otherwise, mince)
1 large chopped onion
4 cloves garlic, minced
2 – 16 oz. jars of organic, tomato-based pasta sauce (this is a tasty one but pricey) or you can make from scratch
2 – 6 ounce jars of organic tomato paste
Lasagna:
1 box of gluten-free pasta (where to buy)
1 cup freshly grated parmesan
2 pounds of organic Swiss cheese, sliced
2 pounds fresh Ricotta cheese
2 eggs
1/4 cup fresh parsley, finely chopped
Directions
Bolognese Sauce
In a large pot, heat the olive oil over medium heat. Add the onion and cook until translucent. Add your ground meat and liver. Cook until browned. Add in your tomato paste and most of your tomato sauce (Keep about 1 cup of sauce set aside for topping.) Mix well and turn off heat.
Lasagna
Preheat the oven to 350 degrees F.
Bring a large stock pot filled with water to a boil. Add your lasagna noodles and cook for about 10 minutes or when they are "al dente". Drain and drizzle with a teaspoon of oil so they don't stick.
Combine your ricotta cheese, eggs and parsley in a large bowl. Mix well. You can add salt and pepper to taste.
Then oil a 13×9 baking dish, then spoon a ladle of meat sauce onto the bottom of the dish. Cover with 1 sheet of pasta. Top the lasagna with a layer of meat sauce, a layer of ricotta, then a layer of Swiss. Repeat layering lasagna, sauces, and cheese, ending with your plain tomato sauce and the Parmesan cheese on the top.
Put into your oven and bake 55-65 minutes, until the lasagna is bubbling and golden brown. Allow to rest 30 minutes before packing up.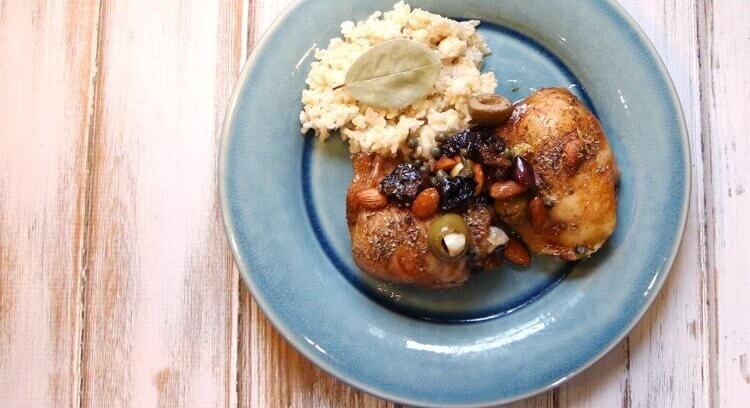 Meals for New Moms #2: Sprouted Quinoa with Chicken Marbella
Chicken Marbella is a family favorite because it's packed with flavor thanks to the olives, garlic, dried fruit and oregano. When served with quinoa, this dish also makes a great option for your meals for new moms.
Quinoa has been used for centuries by traditional societies and contains many nutrients that can help mom heal and support her breastfeeding, like vitamins E, B6, and folate.
This recipe is rich in healthy fats and protein, and contains a natural constipation reliever, good old prunes, which can be a lifesaver in the days after giving birth. It is also SUPER easy to make (much faster than lasagna!) Get the Chicken Marbella recipe here.
To get the most nutrition and digestibility out of your quinoa, be sure to sprout it first. (If you don't have the time, don't sweat it!) You can also buy already sprouted quinoa.
Sprouted Quinoa
Ingredients:
1 cup quinoa
1 quart mason jar
Sprouting lid (where to buy)
Filtered water
1 cup homemade bone broth or water
salt to taste
Directions:
Rinse quinoa thoroughly with cold water. Place the quinoa into a 1 quart mason jar and fill with more cold water. Let it soak for about overnight.
In the morning, put a sprouting lid on the jar and pour out the water. Set the jar upside down in a bowl to catch dripping water.
About every 4 hours (doesn't have to be exact, just whenever you get a chance), rinse the quinoa with water, pour out, and put the jar upside down over the bowl again.
Once you see little thread like sprouts coming from the quinoa (usually 1 day) you know they're done.
Transfer quinoa to a saucepan and add 1 cup of bone broth and salt (if broth is unsalted). Simmer for 12-14 minutes until quinoa is cooked.
Serve Chicken Marbella over your quinoa for a nutrient dense, filling, and delicious meal.
Meals for New Moms #3: Shrimp and Oats with Miso
Savory oatmeal? Absolutely! This dish is inspired by Japanese rice porridge but uses oats instead for a milk supply boost. The fermentation process helps break down the soy in miso to be more easily digestible and produces probiotics which are excellent for postpartum healing mamas. Miso also:
Strengthens the quality of blood and lymph fluid
Protects against radiation and heavy metal poisoning
Strengthens the immune system and helps to lower bad cholesterol
Is high in antioxidants.
The shrimp in this dish provides a little bit of fat and a lot of protein! It also provides iron, calcium, sodium, phosphorus, zinc, magnesium, potassium, and Vitamins A, E, B6, and B12. Finally, shrimp is high in iodine, which supports the thyroid (which can take a hit postpartum!)
Ingredients:
Olive oil, coconut oil or butter
1 lb medium shrimp, peeled and deveined
2 Tbs. miso
1 cup steel cut oats
2 cups water or broth
2 tsp. coconut aminos or soy sauce (where to buy)
Bunch of scallions
Sea salt to taste
Directions:
In the evening, place miso paste into a small bowl, add a little warm (not hot!) water and whisk until smooth.
Combine water, miso, salt, and oats in a medium saucepan and let soak overnight on counter.
In the morning, put pot on stove and turn the heat to high. When the water boils, lower heat and simmer for 45 minutes.
In pan, heat oil or butter over medium heat. Place scallions and cook for a few minutes. Then add shrimp in the pan and cook for 1-2 minutes on each side, until pink. You can add curry paste (where to buy) and freshly grated garlic and ginger to enhance flavors. Turn off heat.
Add fresh scallions and coconut aminos to your oatmeal. Place shrimp on top of oats. Serve with a green salad.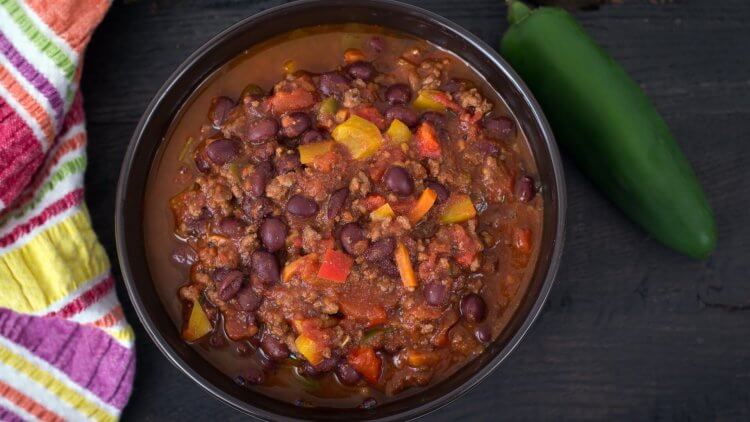 Meals for New Moms #4: Turkey chili
Chili is a classic meal that can easily be reheated for a satisfying meal. Full of protein, this recipe is a great meal for a new mom. Bonus: you can eat it with organic blue tortilla chips and free up one hand for nursing baby! Making this dish with homemade stock makes it a fantastic gut healing food too.
1 tbs. olive oil
1 large onion, chopped
3-4 cloves garlic, minced
1 yellow and red bell pepper, chopped
1 pound pastured ground turkey
1 can (28 ounces) diced organic tomatoes, undrained
1 can red kidney beans, drained and rinsed
1 can black beans, drained and rinsed
1/4 cup chili powder
2 cups homemade chicken or beef stock
1 1/2 tsp. sea salt
1 tsp. dried oregano
2 tsp. cumin
1 tsp. homemade hot sauce (optional)
In a large stock pot, saute onions and bell peppers in olive oil over medium heat until onions are translucent. Add ground turkey and garlic and cook until browned.
Add remaining ingredients and stir well to combine. Reduce heat and simmer for 45 minutes, stirring occasionally.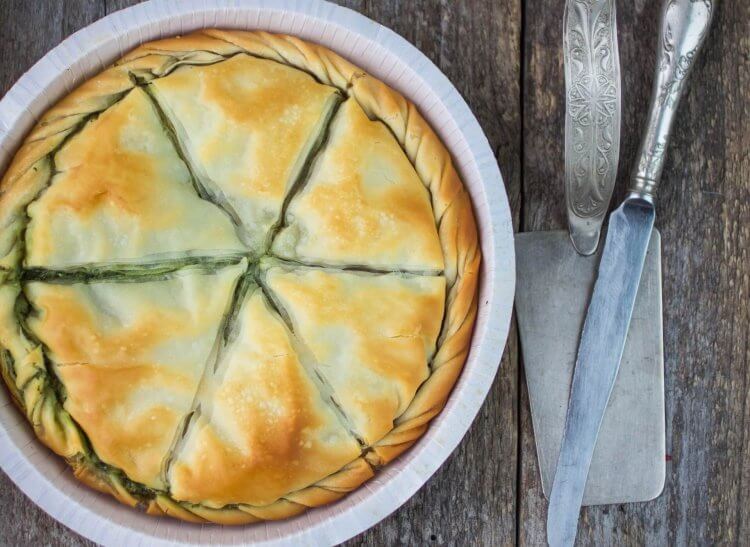 Meals for New Moms #5: Greens pie
Leafy greens are a great way to get calcium, magnesium, potassium, manganese, folate and betaine. Folate and betaine, in particular, are great for postpartum moms because they aid in liver function, detoxification and cellular functioning within the body.
Ingredients:
4 Tbs. olive oil, divided
1 large onion, diced
2 cloves garlic, minced
10 cups chopped winter greens, such as kale, chard, beet greens, and turnip greens, center ribs removed
2 eggs
4 ounces crumbled feta cheese
1/2 cup shredded cheddar cheese
¼ tsp. salt
¼ tsp. red pepper flakes
½ cup chopped scallions
½ cup chopped parsley
2 Tbs. fresh lemon juice
8 sheets of Phyllo dough or GF phyllo dough
Directions:
Preheat oven to 375 degrees.
Heat 1 tablespoon olive oil in a very large skillet over medium heat. Saute the onions and garlic until browned. Add the greens and allow to wilt, stirring often. When the greens have cooked down. Set aside to cool slightly.
Combine eggs, feta, Cheddar, salt, pepper flakes, scallions, parsley, and lemon juice in a large bowl. Add the cooked greens, and stir to combine.
Lay 1 sheet of phyllo dough in oiled baking pan with excess hanging over one side of pan, and brush lightly with olive oil. Lay another sheet of phyllo dough on top, with excess hanging over the other side of pan, brush with olive oil, and repeat process with two more sheets of phyllo.
Spread 1/2 of the greens and cheese mixture into pan. Layer 2 more pieces of phyllo dough like you did the first ones. Add the rest of the greens and cheese mixture and fold overhanging dough over filling. Brush with oil, then layer remaining 2 sheets of phyllo dough, brushing each with oil.
Put the pie into the oven and let bake for about 45 minutes or until you see a nice crisping on the top layer of dough. Let sit for 10 minutes before serving.
Meals for New Moms #6: Beet Salad
Packed with vitamins and minerals, beets are an excellent food for pregnant or postpartum moms. Beets can help fight inflammation, improve cell structure and provide iron to replenish your stores. They can even help boost milk supply! This dish pairs beets, with bioavailable calcium from raw cheese and digestive support from raw apple cider vinegar.
Ingredients:
3-4 large cooked organic beets
1/3 cup red onion
1/2 cup crispy walnuts or pecans, roughly chopped
2-3 ounces of raw cheese
Dressing:
1/4 cup raw apple cider vinegar
1/2 cup olive oil
1 tsp honey (optional)
salt to taste
Directions:
Poke your beets with a fork and place into a Dutch oven. Bake at 350 degrees for 50-115 minutes, depending on your oven. Remove and transfer beets to fridge so they cool.
Then, peel your beets with peeler, slice into small cubes, and place into medium-sized bowl. Cut your raw cheese into cubes and dice your red onion. Add your crispy nuts.
Meanwhile, prepare your dressing in small jar and then add to the beet salad. Serve as a side with another one of the meals for new moms or serve on its own with sourdough bread and organic butter.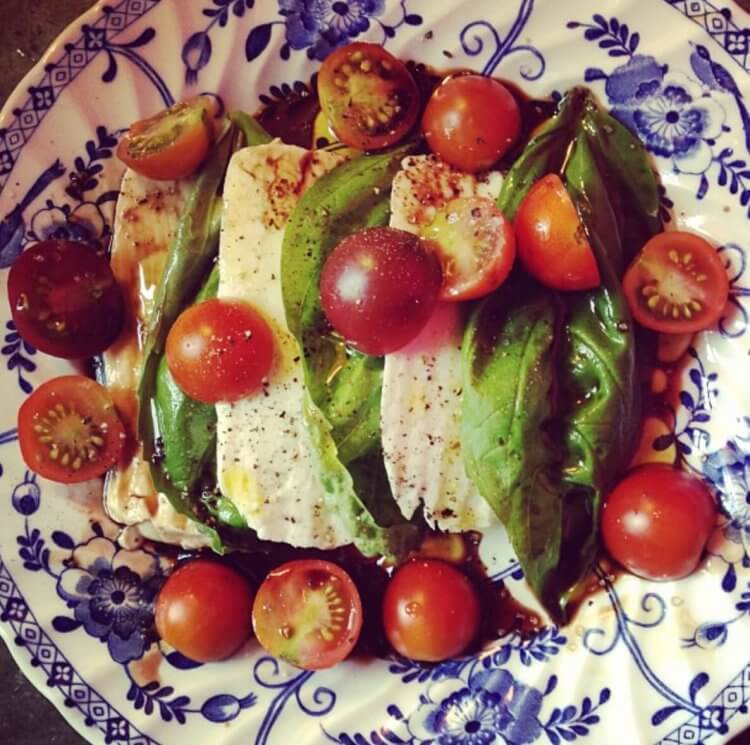 Meals for New Moms #7: Caprese Salad
Fresh basil? Check. Smooth mozzarella cheese? Check. Juicy tomatoes? Check. The delightful flavors of a Caprese should make any new mom happy. The cheese is an easy to digest protein that's high in calcium. The tomatoes and basil will give her a good blast of vitamin C and immune boosting properties.
Ingredients:
8 ounces fresh mozzarella cheese (Buffalo is especially delicious!)
1/3 cup of organic basil leaves
1 pint of organic cherry tomatoes
2 TB balsamic vinegar
2 TB of organic olive oil
1 tsp honey (optional)
Salt and pepper to taste
Directions:
Wash your tomatoes and basil and set aside. Whisk together your vinegar, olive oil and honey with a pinch of salt and pepper. Set aside. Cut your mozzarella into thin pieces. Cut your tomatoes into halves. Arrange your salad alternating cheese, a large Basil leaf and tomatoes. Top with dressing and any additional salt and pepper.
Meals for New Moms #8: Chicken Noodle Soup
There is a South American proverb that says "Good broth will resurrect the dead." So, this should definitely be one of the leading contenders of the meals for new moms! I actually made this recipe when I was pregnant and put several quarts away in the freezer. It was my liquid gold during those early weeks postpartum.
Ingredients:
1 organic, free-range chicken
Additional 2-4 pounds of chicken bones like necks, back, and feet (optional)
8 cups of filtered water
4 stalks of organic celery
4 large carrots
Punch of parsley (chopped)
1 package of gluten-free pasta noodles (could use 4 cups of rice as well)
Thyme, sage, salt & pepper
Directions:
Roast an organic chicken with complementary spices and flavors like thyme, sage and lemon. Pull the chicken from the bones and set aside.
Use the remaining bones to make your broth. You can also add in chicken necks, backs, legs and/or feet for added gelatin and nutrition. Put into a stock pot and add eight cups of filtered water. Bring to a boil and skim off any debris. Put your burner on low and cover your pot. Cook for up to 24 hours for maximum nutrition. Here's a video demo.
Once your broth is done, remove bones and add in your cooked chicken, along with four stalks of celery, four carrots, one onion, your spices and salt and pepper. Finally, add in one package of gluten-free noodles and cook for 15 minutes more. Finish with a bunch of fresh parsley in a hot bowl.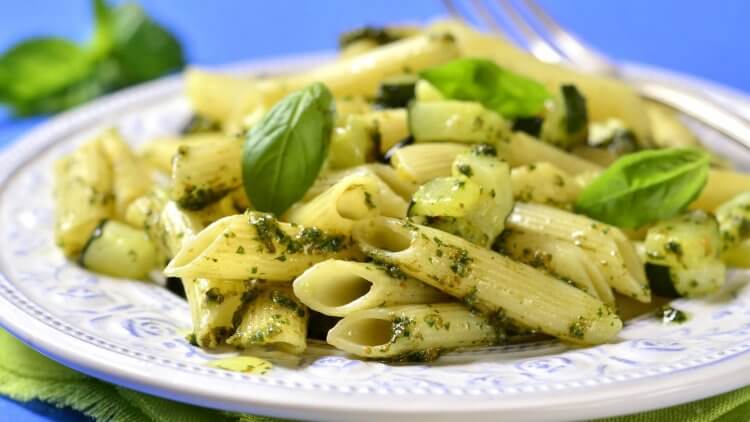 Meals for New Moms #9: Pistachio Pesto Pasta
Check out this easy pasta dish, which is great for new moms. It contains raw garlic, which is great for boosting immunity as well as good protein from high quality cheese and nuts.
Dessert!
What can you pair your meals for new moms with? Well, how about a nutritious dessert?! Try one of these.
Chocolate Chia Pudding – High in antioxidants, fiber, and omega 3's for mom's healing, and gives an endorphin boost!
Healthy Gummy Men – This recipe uses my favorite gut healing ingredient – gelatin!
Lactation Cookies – Delicious and great for boosting milk supply.
Save9 Nourishing Meal Ideas for New Moms | Mama NaturalMama Natural
Beverages!
It's great to have yummy and nutritious beverages too! Try these.
Iced Red Raspberry Leaf Tea
Make a double strength batch of RRL tea and then pour it over ice, yum! Red raspberry leaf tea is still great after baby is born. It may decrease the length of postpartum bleeding and can reduce after pains while helping your uterus return to its normal size.
Hibiscus and Rose Hip Tea
Rose hips are one of the best sources of vitamin C around and they also increase immune function and circulation. Hibiscus is high in antioxidants, tastes great and quenches your thirst.
You can buy hibiscus and rosehip tea already mixed or you can make your own from dry or fresh flowers.
1 cup hibiscus flower
3 Tbs. rose hips
Mix herbs in an opaque glass jar and add 1 Tbs. of tea mix to one cup of water. Steep for 10 minutes and strain tea leaves. Add a teaspoon or two of raw honey.
Beet Kvaas
Beet Kvass is a traditional Russian tonic that supports liver, gallbladder, and digestive health. Rich in vitamins, minerals and probiotics, beet kvass is a great compliment to your meals for new moms. It has an earthy, salty and tangy flavor which can need some getting used to but this recipe adds orange juice to sweeten it up.
Ingredients
6 medium organic beets, scrubbed and roughly chopped
2″ knob of ginger, grated
2 tsps. of sea salt in 2 quarts of water
1 organic orange, juiced and zested, for the second ferment
Equipment
1/2 gallon mason jar
Directions:
Scrub the beets. Trim the tops and tails, but leave the skins on.
Cut the beets into 1/2-inch cubes. Don't shred them.
Place the beets in the clean 1/2 gallon jar. Add ginger and salt water to fill jar. Cover with a coffee filter and a rubber band.
Let the jar stand at room temperature.
Taste the liquid once a day to check for readiness. Stop fermenting when the taste is right. It can take 2-5 days. Add the orange zest and juice, and now seal the jar tightly, and leave for another 2-5 days.
Strain out the beets and transfer the kvass to the refrigerator.
Best Meals for New Moms
Making meals for new moms is so vital! She needs to recover her nutrient stores, especially if breastfeeding, as she'll need even more calories a day than when she was pregnant. Whether you're cooking for your freezer or for a new mom friend, choose foods that are from high-quality sources and organically grown if possible, for optimal nutritional value.
How about YOU?
Hope this post gives you some good ideas and would love to hear your thoughts.
What are your go-to meals for new moms? What foods do you like to eat after giving birth? Share with us!
References
https://www.care2.com/greenliving/10-benefits-and-uses-for-miso.html
http://www.naturalfoodbenefits.com/list-details.php?CAT=4&ID=
https://www.webmd.com/vitamins-supplements/ingredientmono-839-rose%20hip.aspx?activeingredientid=839&activeingredientname=rose%20hip
https://www.healthline.com/health/all-you-need-to-know-hibiscus#2
https://goop.com/wellness/health/postnatal-depletion-even-10-years-later/