Are you into natural parenting? Check out these ten awesome books that will help you on the road to naturally and intentionally parenting your child.
As the saying goes, babies don't come with an instruction manual. When Griffin arrived, I remember being clueless as to how to swaddle a baby, when I could expect him to roll over, or what I should prepare for his first foods. Thank goodness there are great natural parenting books out there to help a mama out!
If I had to recommend just a handful of books, I'd recommend the list below. While I don't agree with everything that every book says, I appreciate each of the following natural parenting books for various reasons. And isn't that the beauty of being a parent? We can read, listen, learn… then take what we like and leave the rest.
General Natural Parenting Books
The Baby Book by William (M.D.) and Martha (R.N.) Sears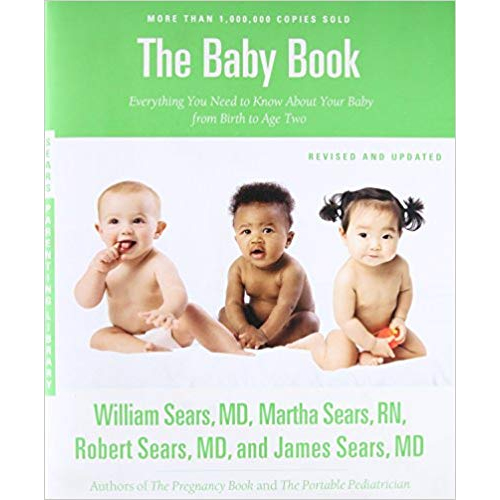 The subtitle of this book is "Everything You Need to Know About Your Baby from Birth to Age Two," and that pretty much sums up this huge and indispensable volume. If you buy just one natural parenting book, buy this one. It's my favorite on the list, because the Sears covers EVERYTHING! From exercises mama can do to strengthen her core postpartum, to how to clear a baby's nose, to what that weird rash on baby's butt is all about, they tackle it all. What I appreciate most is that the Sears' use a relaxed and non-alarmist tone throughout—perfect for a paranoid first-time mom. While some of the information seems outdated (he shows us how to use pin diapers), and I don't agree with all of the diet recommendations, there is still plenty of valuable info in here.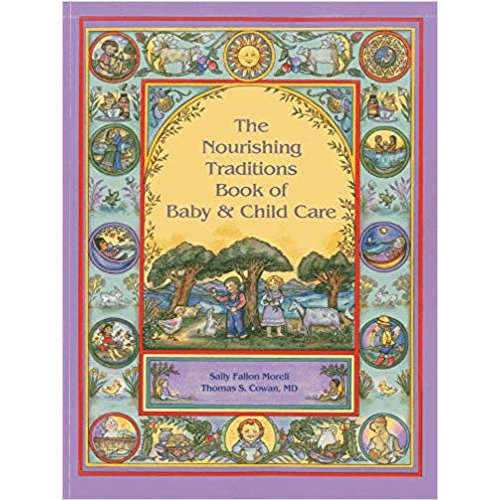 This natural parenting book wasn't out when Griffin was born, but I'm so happy to have it as a resource for my other children. True to Fallon Morell's style, she offers many practical tips to help our babies thrive, all based on ancient and nourishing traditions. This book is chock full of natural remedies for common childhood ailments (think colic, fevers, colds, etc.) and nutrient-dense recipes designed for baby's development that aren't necessarily mainstream (think bone broth, grated liver, and egg yolks as baby's first foods).
Think of this natural parenting book as the crunchy version of the "What To Expect" franchise. Written by two best friends (who happen to be moms), it's a fun read filled with great advice and real-life stories from experienced mamas. The book is segmented into eight chapters, focusing on topics such as birth, holding your baby, breastfeeding, infant sleep, pottying babies (think Elimination Communication), sign language, baby-led solids, and self-care for moms.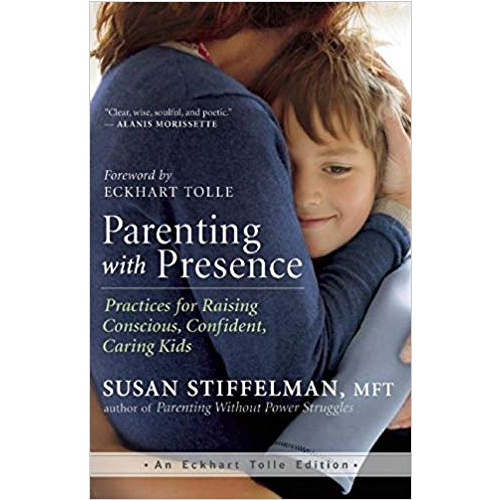 Known as Huffington Post's Parent Coach, Susan Stiffelman elevates the mundane aspects of parenting into the spiritual realm. In the words of Alanis Morissette, Stiffelman is "clear, wise, soulful, and poetic." Rather than just listing off practices for parents, Stiffelman comes to the weary parent as a friend and healer through stories, as well as practical tips. When it does come time for the "practices," Stiffelman creates meditations and strategies that don't just tell you how to raise conscious, confident kids but show you how to do so.
Tip: Read this with your journal nearby, so you can reflect on what you read. Great for any parent!
Natural Parenting Books on Sleep
"Is he a good sleeper?"
"Get sleep while you can?"
"Are you sleeping at night?"
If you're like me, chances are pretty good that you were asked these questions many, many times. There's a reason why many mamas think that infancy means zero sleep for mama. Sure, there are nighttime feedings and diaper changes, but caring for a newborn can indeed be exhausting especially if you're out of tune with your baby's needs. Secrets of the Baby Whisperer is your solution to getting sleep—not by sleep training—but by tuning into your baby's needs. As the subtitle suggests, Hogg and Blau help you connect and communicate with your little bundle!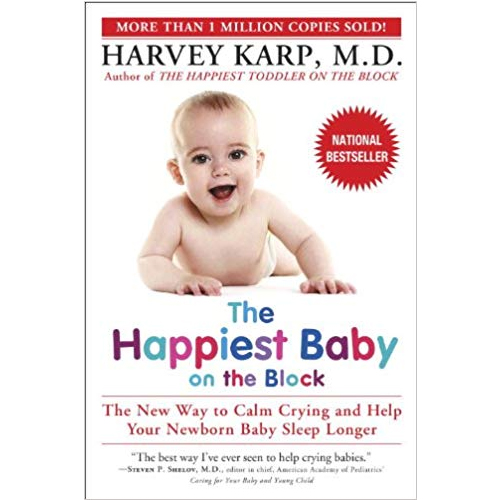 In the early months of his life, Griffin used to cry without provocation each and every night. I couldn't understand WHY, and despite my best efforts to nurse, kiss, hug, and rock him, nothing seemed to help. Many nights, we both ended up in tears. Then I encountered Harvey Karpp's The Happiest Baby on the Block. His "5 Ss" gave me the tools to soothe my baby and reduce his crying significantly. (Talk about a confidence boost!)
Karpp also introduces the concept of "The Fourth Trimester." This perspective helped me understand my baby more and give him the compassion and care that he needed. Note that the teachings in this natural parenting book are also available in a very useful (and unintentionally comical) DVD.
Natural Parenting Books on Attachment Parenting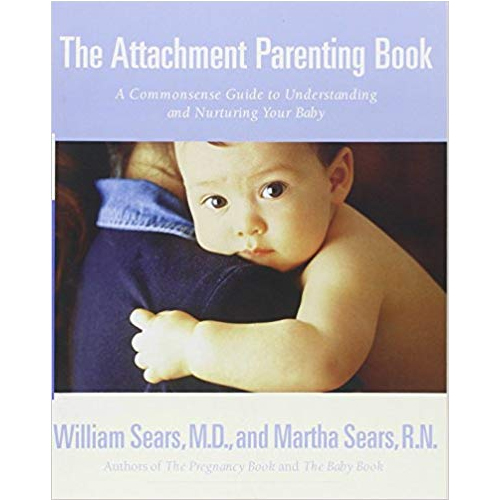 The husband and wife (and doctor and nurse) that started it all… The Sears coined the term "Attachment Parenting," and they describe the specifics of this parenting practice in this natural parenting book.
For folks who don't know, attachment parenting (AP) encourages a strong early attachment and advocates parental responsiveness to babies' dependency needs. It centers around the six Baby Bs: Bonding, Breastfeeding, Babywearing, Bedding close to baby, Belief in the language value of baby's cry, Beware of baby trainers.
While I don't practice all of the Bs, this is a great book to encourage you on your parenting journey. Interesting to note, the Sears grew up in less than ideal households. As a result were determined to create an atmosphere of compassion, love, and connection when they started their family. Eight children and many grandchildren later, they've done just that.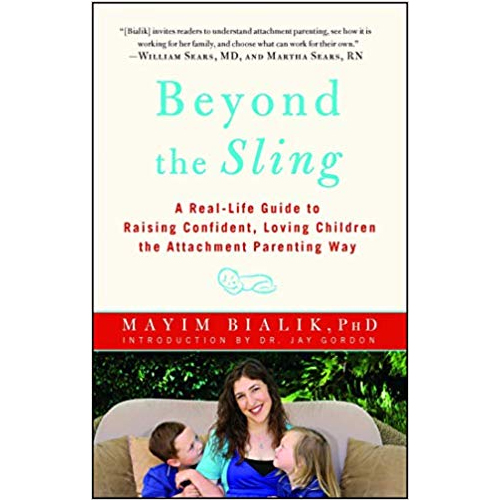 While The Baby Book by Dr. and Martha Sears focuses on babyhood, Mayim Bialik picks up on the principles of Attachment Parenting. She shows the reader how these principles made sense from her own background in neuroscience, as well as her role as a mother.
Beyond the Sling reads a bit like a memoir, so you find yourself nodding, saying "Me too, me too!" It's funny, it's smart, and it's perfect for any mama who incorporates the principles of AP into her home life.
Natural Parenting Books on Behavior and Discipline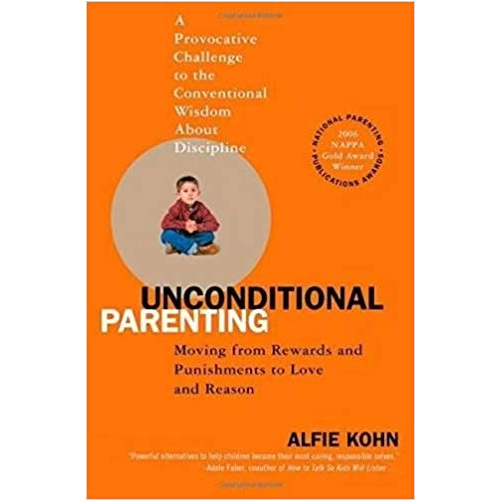 Have you ever struggled with a child's behavior? Modern society tells us that sticker charts and time-outs are the go-to. But are they really what's best for our children? As parents, we know what unconditional love is, but Alfie Kohn challenges us to bring "unconditional love" into the discipline arena too.
If you're struggling with discipline, you're not alone, and that's where Unconditional Parenting comes in. Kohn shows us that both bribes (and other forms of positive reinforcement), as well as punishments (including logical consequences) actually control children's behavior. Kohn helps you address specific problems by working with your children, rather than punishing them.
As much as we want to think our newborn baby will be angelic, tantrums happen and messes will be made. So what is a crunchy mama to do? Toddlers must be taught right from wrong, and that's where Positive Discipline comes in. Jane Nelsen sorts the punitive discipline from the positive discipline. She shows you why to avoid punishments and how to discipline lovingly and positively.
A must-read for any Christian mama, especially if you've got toddler going through the "Terrible Twos!"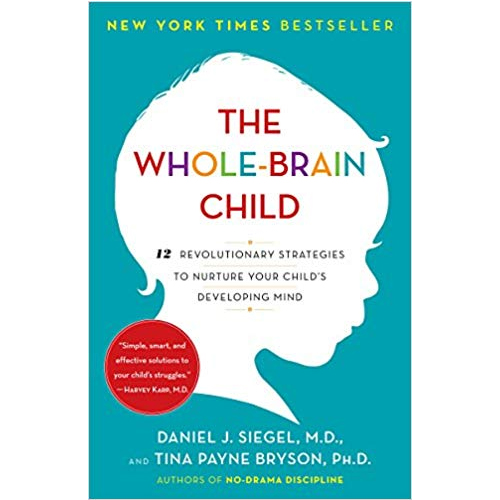 Did you know that a toddler's tantrum stems from his emotion-ruled right brain? As a neuropsychologist, Daniel Siegel understands that. He gives you 12 easy-to-implement strategies for stimulating all of your child's brain—not just the right side. As a result, you'll be rewarded with both calmer and happier children.
Pairs well with The Whole-Brain Child workbook.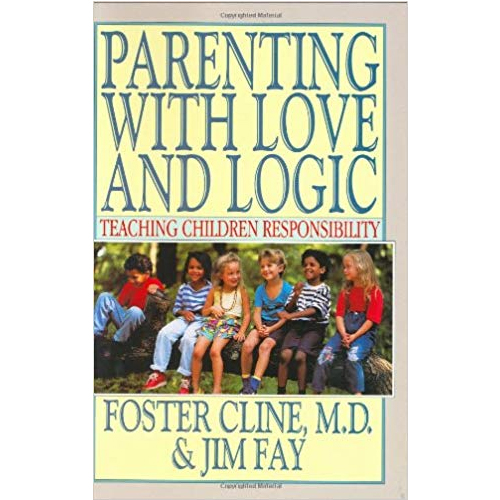 Raise your hand if you've ever struggled to put a coat on a toddler? Guilty! Thankfully, Parenting with Love and Logic gives parents the tools to work through tricky situations like that. For instance, give your child an option: Would you like to put on your coat or do you want to tie it around your waist? Giving options teaches responsibility, but it also teaches these lessons in a loving manner.
Natural Parenting Books on Food & Nutrition
I thought breastfeeding would be easy. Baby is hungry, pop them on the breast, all is well. But my experience couldn't be further from the truth! Thank God for books like this that share the real story.
Composed by the La Leche League, a non-profit organization that has been supporting breastfeeding mamas for decades, this natural parenting book covers all of the issues that can arise while nursing: low milk supply, overactive letdown, how to start pumping, sore nipples, poor latch, baby failing to gain weight, etc.
The subtitle for this book says it all: "The Best Way to Nourish Your Baby from Birth to 24 Months." Katherine Erlich and Kelly Genzlinger take a stance against what so many natural mamas know: conventional baby/toddler food is loaded with sugar, preservatives, and a whole lot of yuck! Super Nutrition for Babies features beautifully photographed food and easy recipes, but the goodness doesn't stop there. Erlich and Genzlinger also share plenty of dietary suggestions and guidelines.
Did I Miss Any Must-Read Natural Parenting Books?
What do you think of my selections? Are there any other natural parenting books that served you well when you were a new parent?